---
ราคาพิเศษ ติดต่อ คุณเอก 0863386724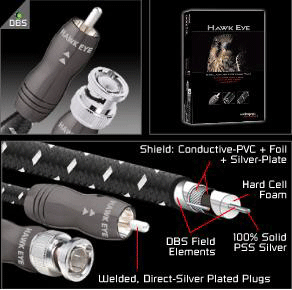 SOLID PERFECT-SURFACE SILVER: Extreme-purity PSS allows optimum signal transfer.
DIELECTRIC-BIAS SYSTEM (DBS, patent pending): When insulation is un-biased, its dielectric properties cause different amounts of time-delay for each frequency and each
signal level.
Similar to how the earth?s magnetic field makes all compasses point north, the AQ DBS system creates an electrostatic field which causes the molecules of the insulation to all point the same direction. This minimizes the multiple nonlinear time-delays.
Corruption of time domain information in a digital audio signal is known as ?jitter? ? a primary distortion mechanism limiting intelligibility and causing artifacts (irritation) in the sound.
The 12V hardware-store batteries in DBS packs will last for years. A test button and LED allow for the occasional battery check.
HARD-CELL FOAM: Rigid micro-cellular high-density PE foam insures stable impedance and minimum reflection-induced jitter. Once DBS is attached (for 2 weeks), the normal limitations of un-biased Hard-Cell Foam are eliminated.
WELDED PLUGS: 8,000 amperes welds Direct-Silver plated RCA plugs, creating a perfect-connection alloy between cable and plug.
DIRECTIONS: When using Hawk Eye for digital audio, please be sure to observe the directional arrows. Video is not sensitive to directionality.